The Ultra-Low Emission Zone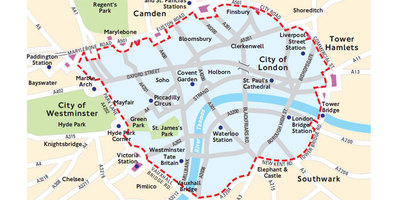 As anyone who lives or works in Central London knows, Air pollution is one of the most significant challenges, affecting the health of all.
Research has shown that every child in London breathes toxic air daily, damaging their lung growth and road transport is the biggest source of the emissions damaging health in London.
Transport for London is introducing a new emission zone in central London in 10 days time however, it could cost residents who use their car daily over £4,500 a year
The Ultra-Low Emission Zone - ULEZ - would cost a daily user of a vehicle at least 60 per cent more per year than even the most expensive council tax in central London.
ULEZ takes effect in central London on April 8 and will charge drivers of high emission cars £12.50 per day, equating to £4,562.50 for someone that uses a vehicle in that category every day.
This is substantially more than the council tax bill for residents of properties in even the highest tax band of any of the central London boroughs. For example, the current Band H council tax in Westminster is £1,421 per year; Kensington & Chelsea is £2,246.14 and Camden is £2,976.86.
But, the introduction of the ULEZ will help reduce exhaust NOx and PM emissions, helping to improve air quality and making central London a safer and more pleasant place to live, work and visit.
These positive effects will be especially beneficial to the young, older people and those who have respiratory problems, as well as residents of high pollution areas.
The majority of traffic entering the ULEZ will be from outside the zone, so the benefits of cleaner, greener vehicles in the form of reduced emissions will be experienced across London, even to areas not in the zone.
Transport for London says "To help improve air quality, an Ultra Low Emission Zone (ULEZ) will be in place in central London from 8 April 2019 in the same area as the Congestion Charge. Most vehicles including cars and vans will need to meet new, tighter exhaust emission standards (ULEZ standards) or be liable for a daily charge to drive within the ULEZ area".
From 25 October 2021 the area will expand to the inner London area bounded by the North and South Circular roads.
Don't get caught out, check your vehicle today.