ESTATES IT WIN 'BEST IN SECTOR' SUPPLIER OF THE YEAR AWARD AT ESTAS 2015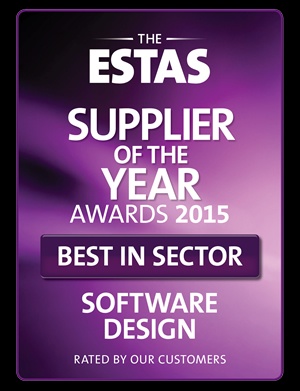 Estates IT has been recognised at The ESTAS for its outstanding customer service to its clients by the largest and longest running award scheme in the UK residential property industry. The ESTAS determines the best suppliers in the industry through research carried out amongst agents who are asked a series of questions about the service they have received from their suppliers. This years' competition saw 25,000 surveys completed.
As well as making the Top Ten Supplier list, Estates IT took away a
'Best in Sector' award for Software Design.
Estates IT also received the Silver Award in the Supplier of the Year category at the ESTAS in recognition of their excellent customer service as voted for by their clients during the course of 2015.
The winners were announced by Phil Spencer, the TV Property expert at the 12th annual ESTAS ceremony at the Hilton Park Lane on 17th April.
Phil Spencer said "I think these awards help all firms to focus on customer service for the greater good of our own businesses as well as the wider industry. We must all drive standards higher, raising the bar in terms of the quality of advice we offer and the level of customer care we deliver".
Simon Brown who owns the ESTAS said "The ESTAS are special because shortlisted and winning suppliers are selected purely on the service they deliver to their clients. In fact just taking part shows a firm's commitment to their clients and to be shortlisted is a great achievement in itself. For the winners this is the highest accolade they can receive in the industry."
Nigel Stanley, Director of Estates IT said "We are absolutely thrilled to be recognised at this year's ESTAS. It means so much to us as we know it's our clients who have judged our performance. We take our levels of customer service very seriously because we know clients have a choice. We have always been very proud of the personal service and this proves we are delivering what we promise."
Software Designer and Director of Estates IT, John Roberts said "It's good to know our software is rated so highly by our clients. In an ever growing market, our aim has always been to provide an excellent product which is competitively priced. This result is confirmation from our customers that this has been achieved and I couldn't be happier."
Alex Chesterman, Founder & CEO of headline sponsor Zoopla Property Group said "This is our sixth year of sponsoring the ESTAS and we are delighted to be once again supporting this key industry event. The ability to collect and act on customer feedback is essential to the success of any business and rewarding those who provide the best service in the industry, as these awards do, is perfectly aligned with our business. Congratulations to all of this year's winners".
The Awards are organised by Awards for Business Ltd.
Find out more about PCHomes and PCHomes Plus Estate Agent Software