Windows 10 Technical Preview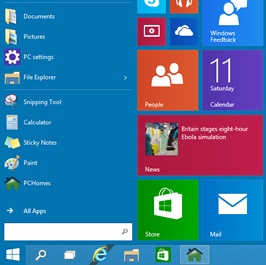 PCHomes Testing Underway
Windows 10 technical preview is here and we like it!
Windows 8 and 8.1 were a bit of a shock. Seemingly forgetting the business user in favour of consumers and touch devices. But it looks like Microsoft have now listened to its customers and have made some key changes to the next version of Windows, known currently as Windows 10.
The return of the Start menu that Microsoft had teased with recently, was shown off at its 30th September event to preview Windows 9. Merging of the traditional Windows 7 style start menu/interface and Windows 8 live tiles, the new Start menu is designed to try and please all camps, touch and mouse users, business and consumer users. The new operating system is designed to work in a way that best suites your device and the way you work.
So what happened to Windows 9? Several theories are circulating around. Not being associated to Windows 95/98 maybe one of the more widespread ones. So 9 is skipped in favour of 10.
PCHomes Estate Agent Software version 6 is currently being tested on Windows 10 and we are pleased to say this is going well with no issues encountered.
So when can you get your hands on this new operating system? No official release date has been announced yet. Consumer preview builds are said to be available to users early in 2015. It is likely that an exact release date may be announced at Microsoft's Build 2015 conference next April. Microsoft has so far indicated that Windows 10 will ship to consumers and enterprise "later in the year" in 2015.
"Introducing Windows 10 - the best Windows yet"

If you have any questions or would like advice on the above article please speak to one of our team on 020 8859 1700 (Option 1) or enquiries@estatesit.com