To Board Or Not To Board, That Is The Question....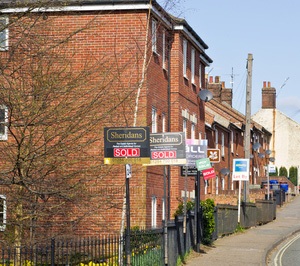 In the year that the Esta's Gold Supplier Award went to property board specialists Agency Express, it seems that more and more local councils and residents groups are campaigning to have For Sale & To Let boards banned from our streets.
There are at least three groups devoted to photographing 'illegal' boards, posting them on twitter and letting their local council know about the offending agents.
@3flyingducks posting under the name of UK Board Watch 2015, has been around on social media since 2012. Based in Cheltenham, they use #illegalboards when posting their photographic evidence on Twitter.
They have now been joined by Surrey Board Watch @BoardSurrey and South Coast Board Chapter @coming4_u who want us folk to join their campaign for "board fairness". They all claim the boards they publicise are displayed in direct breach of planning laws, specifically set out under Class 3 of the Outdoor advertisements and signs: a guide for advertisers produced by the government which states:
"If the sale or letting is for residential use or development, the advertisement board must not exceed 0.5 of a square metre, or a total area of 0.6 of a square metre for two joined boards. No advertisement board is allowed to extend outwards from the wall of a building by more than 1 metre. In each case only one board may be displayed on premises and this must be removed not later than 14 days after completion of the sale or granting of the tenancy"
The Town & Country Planning (Control of Advertisements) England Regulations 2007 allows local planning authorities to apply to the Secretary of State for a direction removing the rights of estate agents to put whatever boards they want up in a defined area, normally part of a conservation area. The fact that estate agents boards are damaging the character and appearance of a conservation area first needs to be demonstrated.
Councils who have successfully applied for special dispensation to ban boards in certain areas include: Brighton & Hove, Newcastle, Nottingham, Bath, Cardiff, Hastings, Exeter, Leicester, Loughborough, Malvern Hills, Leeds and Preston.
In London: Westminster, Kensington & Chelsea, Hammersmith & Fulham, Waltham Forest & Camden have also been successful.
Many councils have already used that power to fine estate agents for breaking the rules. A Brighton estate agent was fined £1,000 for erecting a 'For sale' board in a central conservation area and in Hammersmith and Fulham another was fined £5,195 for hanging two boards in a restricted area.
It follows then, that with the ever improving state of the housing market, in the last two years there has been a sharp rise in the number of local authorities requesting the power to ban which also includes councils with a high student population, who are desperately trying to control To Let boards which they say "seem to remain in situ all year round".
So, we are now in a position where there are fresh calls from some people for a widespread ban on boards being erected and the rise of the anti-board activists on social media. Let Battle Commence!