Estates IT Win The PROPERTYdrum B2B Software Of The Year Award 2012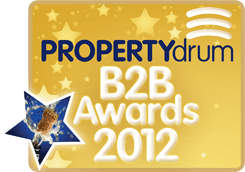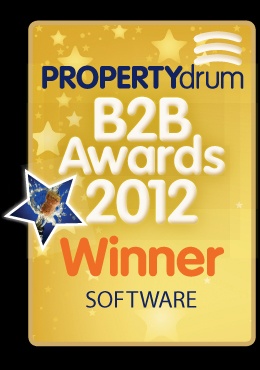 On the evening of 1st May 2012 PROPERTYdrum presented the PROPERTYdrum B2B Awards 2012.The Awards took place at a glamorous gala dinner at the Lancaster London Hotel, hosted by comedian Dominic Holland and PROPERTYdrum Managing Director, Grant Leonard.The Awards have been established by PROPERTYdrum Magazine to recognise excellence in products and services in support of estate and lettings agency.
One hundred companies were nominated for the 17 awards. Of these 23 were Highly Commended and there were 17 overall category winners.
The awards were decided by a panel of industry leaders and experts. Also taken into consideration was a public vote from among the 30,000 readers of PROPERTYdrum and The Negotiator magazines via an online poll.
The Judging panel was... Mark Hayward (CEO NFoPP), Wendy Evans Scott (President NAEA), Ian Potter (Operations Director ARLA), Alan Collett (President RICS), Mark Goddard (MD, GMGPSG), Chris Day, Christopher Hamer (The Property Ombudsman), Ian Wilson (MD, Martin & Co), Nick Leeming (Commercial Director, Zoopla), Clare Fletcher, Julian O'Dell, Kevin Hollinrake (MD, Hunters) Sheraz Dar (Marketing Director, DPG), Ivor Dickinson (MD Douglas & Gordon), Steve Harriott CEO (Tenancy Deposit Scheme), Michael Day (Integra Property Services).
We are pleased to announce that Estates IT are the winners of the Software category 2012. We would like to thank PROPERTYdrum for the award and to all our customers who without your continued support we would not be in business so thank you!
Find out more about PCHomes and PCHomes Plus Estate Agent Software