Social Media, Make It Work For You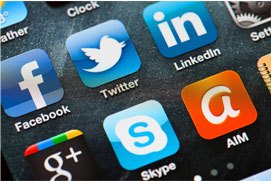 Having recently taken on the mantle of Media Manager here at Estates IT, it has come to my attention that over half of our clients are still not embracing the world of Social Media and I find that quite astonishing!
It costs nothing to use and is the very best way to get yourself and your brand noticed by an extremely wide audience of prospective clients and others in our industry and therefore can only help your business to grow.
It's simple to sign up and use all the various platforms but if you are a beginner, I would suggest that you start with Twitter.
Take a picture of your friendly staff in the office and then publish it on your twitter account, comment on how helpful they are and how they look forward to dealing with your customers, be friendly and you will be surprised how quickly your interaction with others will increase. Start 'following' others, they in turn may 'follow' you. It really doesn't take long before your list of 'followers' will grow and could outnumber the amount of people you are 'following'.
All it takes is a few minutes a day to post a couple of items and pretty soon, you will wonder why you have been so slow to jump aboard the social media bandwagon.
Once you get into the swing of things with Twitter, you could expand to Facebook, Instagram, Google+, LinkedIn etc but Twitter is the one that has the most rapid and up to the minute traffic at the moment, in my opinion.
You can be amusing, interesting or informative about your brand and your local area. You can ask for customer feedback and make people aware that you are an expert in your field and can be trusted and the best thing about social media is that it is free publicity, why on earth wouldn't you take advantage of it!
So, don't put it off any longer, set up a Twitter account today and give it a try. You never know, you might actually enjoy it!
If you already are a regular Tweeter, then go and try the other platforms I mentioned and don't forget to follow us, then we in turn will follow you.
For a more in depth account of how Twitter can help you, you might like to read our previous article 'To Tweet or not to Tweet' which was published in 2013.
If you have any questions or would like advice on social media please speak to one of our team on 020 8859 1700 (Option 1) or enquiries@estatesit.com