Footballs Cristiano Ronaldo Seals The Deal On Trump Tower Apartment.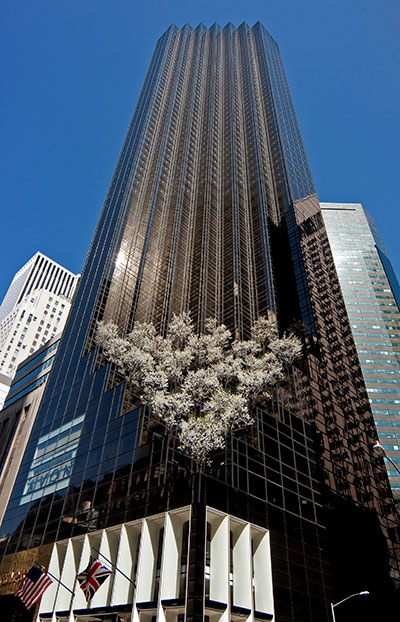 It was reported this week that Cristiana Ronaldo, the ex-Manchester United and current Real Madrid footballing superstar from Portugal, has signed the lease on a luxurious New York apartment.
This fuelled speculation that Ronaldo could be heading for a career in the US soccer league when his current contract in Spain expires but more interestingly, rumour has it that this particular apartment was the inspiration for the bachelor pad belonging to Christian Grey in author E L James best selling "50 Shades of Grey" Trilogy!
The property, located on New York's Fifth Avenue in the tower owned by US tycoon and presidential candidate Donald Trump, cost a whopping $18.5 million but measures 2,509-square-feet and features spectacular views of Central Park.
Ronaldo purchased the apartment from Italian real estate entrepreneur Alessandro Proto. A business partner of Donald Trump, he has also found homes in the past for Tom Cruise, Leonardo Di Caprio, Madonna, Brad Pitt and Prince William.
Whilst owning the apartment, back in 2010, Proto met E. L. James who was touring Italy at the time and he has since insisted that she based the mega rich and mysterious Mr Grey on himself. While James has never confirmed that Grey is based on Proto, the property mogul is widely believed to have been the inspiration for the character and his Trump Tower pad was that which James had in her mind when she described the setting to Grey's seduction of Anastasia Steele!
Although it doesn't contain a "Red Room" (as far as we know), it does have three bedrooms and three bathrooms which are apparently laden with marble. Designed by Juan Pablo Molyneux, we are told the apartment has patterned black and white limestone floors, arched ceilings and wood panelling. Ronaldo will also have access to a fitness centre, in-house valet services and will have no problems bringing his dogs as the building is pet friendly.
Let's just hope that none of Mr Christian Grey's habits rub off on Mr Cristiano Ronaldo.
He's always seemed such a nice boy!
Do you have a website that will attract A-list celebrities? Is it time for an upgrade? Find out more about our award winning software services and website design and speak to a member of our team today on 020 8859 1700 (Option 1) or enquiries@estatesit.com