The Rise And Rise Of The Home Office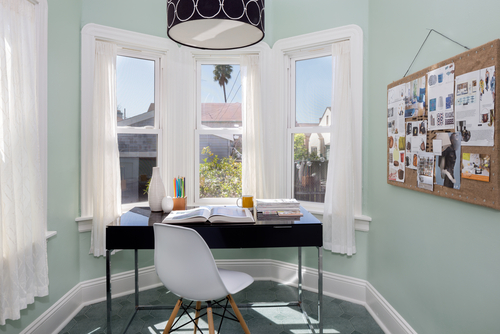 Recent statistics show that 4.2 million workers now shun a commute to the office in favour of doing their jobs without leaving the house. Going up by 800,000 over the past ten years, now one in seven Britons are working from home.
With increased traffic congestion, mounting rail travel expenses, motoring and parking costs and rising stress levels related to commuting, who can blame them?
Advances in technology have enabled people and businesses to connect 'on the go' or from virtually any location, reducing the need to travel to an office. Figures have also been boosted by primary carers seeking to find flexible work arrangements to fit around childcare.
Changes to the law in recent years, mean employers have to offer greater flexibility surrounding work hours and location and a growing number of employees are taking advantage and working from a dedicated space at home. Which means an increasing number of those buying or letting, now have a home office high on their list of criteria.
Government legislation has also been reviewed to reflect the growing trend of small businesses run from private rented properties and any private rented property from which a business is operated is now subject to a new law under section 35 of the Small Business, Enterprise and Employment Act 2015. This covers any tenancy under which the tenant is required to occupy the rented property as a home but is also permitted to run a home business from the property.
So, to capitalize on this, should an estate/lettings agent encourage a landlord or vendor to create an attractive working area in the home? I say yes! It may just add value and there are many things that can be done at very little cost.
Anyone working from home is likely to want fast and reliable Wi- Fi connection to the internet. If the property is in an area that has super-fast fibre broadband, why not mention this on the particulars? For some, it will be an important selling point.
Provision of ample electrical sockets is a good idea, along with at least one phone socket. Most people have multiple devices that need recharging so don't skimp on the access to power. Perhaps consider a TV point too, depending on the size of the room or area.
As every office needs at least a desk and some storage space, it's important to consider where furniture might go when installing sockets. Fitting out a small space is challenging but with the right furniture and a little imagination it's certainly possible.
Every home worker needs good lighting, either from a window or artificial and this should be considered when creating a dedicated working space. If the space is small and doesn't benefit from a window, appropriate lighting should be available instead.
Some properties may not have the option of devoting an entire room to office space but most will have an area that can be set aside for this purpose and a relatively small investment to transform it, can add considerable buying and letting appeal. Even if the space is used only for organising bills or for students doing homework, people need to realise the demand for a dedicated working space - the kitchen table just won't do anymore.