Rent Smart Wales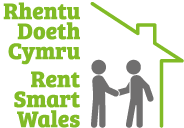 Calling All Landlords With Property In Wales!
The deadline for Rent Smart Wales is fast approaching!.
All landlords, who have property in Wales, will need to be registered by 23rd November and some may need to complete approved training to gain a licence.
If you are not registered it will be both a criminal and civil offence to let or manage a property in Wales after this date.
Penalties include fines, loss of Section 21 rights and rent repayment or rent stopping orders.
Find out if you need a licence by visiting the Residential Landlords Association
Rent Smart Wales have warned it may take up to 10 working days to respond to enquiries as landlords rush to register before the November 23rd deadline.
DON'T DELAY: YOU MUST BE REGISTERED BY 23RD NOVEMBER 2016