The Office Christmas Party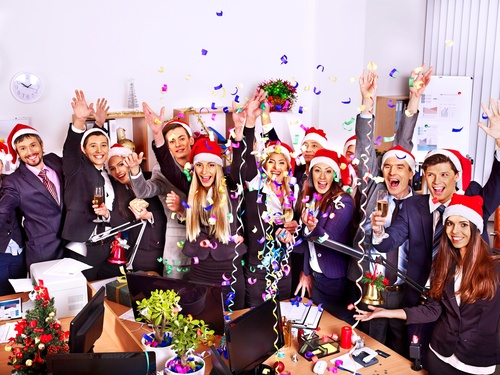 So, we begin December tomorrow and the festive season is truly upon us.
Like ours, I'm sure most office Christmas parties are already booked and the date in the diaries of the staff and I say 'Yah Boo' to anyone who is now desperately thinking of an excuse not to turn up!
I know such annual events are either looked forward to or dreaded but spare a thought for the secretary/receptionist/PA or other staff member who spent her time (& it usually is a 'her') finding the perfect venue and then weeks liaising with everyone to determine a date that everyone is happy with.
No doubt she is also the one who, throughout the year, has planned all the other office get togethers including a varied array of film nights, bowling, ice skating, birthdays drinks etc and it is she that is the unsung hero of company bonding.
So, in honour of all her efforts, here is a quick reminder of what not to do on your festive night out.
1. Don't drink too much!
Yes, the boss is paying but there is nothing worse than having a few too many and throwing up on that same bosses shoes at the end of the night. Pace yourself and try not to throw up until you get home.
2. Don't complain about the food!
This evening is more about getting together on an equal footing with your fellow co-workers than having a cordon bleu dinner. Plus the person who has gone to the trouble of organising everything will feel responsible and she deserves to enjoy her evening without you moaning that your steak is over cooked.
3. Don't talk about work!
I know it's difficult because you may think it's the only thing you have in common with the others around your table but you may be surprised! Who really knows what goes on when the working day is over? For instance, did you know that 'Derek' is in to amateur dramatics, 'Joseph' has a massive shoe collection and as for 'Tracy' ……….well perhaps you should find that out for yourself!
4. Don't be the one everyone is talking about the next day!
In other words, do have a great time but don't make a spectacle of yourself. Don't try to stick your tongue anywhere it's not wanted; if you go on after the party to a club don't do 'Dad' dancing just stick to the edge of the floor and lightly sway from side to side in time to the music. If Karaoke is involved, don't try to do a Whitney! You really can't hit those top notes and everyone else will pretend they don't know you and finally; don't tell your boss what you really think of them. January really isn't the best time to be looking for a new job!
And when the evening is over make sure you tell the organiser just how wonderful she is for taking care of the social events throughout the year and how, without her, the office staff would be a much more miserable bunch.
Ho, Ho, Ho!