New Mobile App Launched Today For Property Seekers!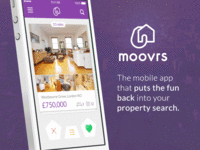 Putting the fun back into your property search!
Is what new mobile app Moovrs promises its users.
Designed for the iPhone, the new free app launches today and powered by Zoopla, states home hunters will be able to access "almost" all of the property to rent or buy in the UK. Naturally what they don't mention is if the agent went with OnTheMarket and chose Rightmove as their 2nd portal then they won't see those properties at all. But perhaps I quibble?
Moovrs looks good and lets you swipe left or right to "favourite" or "dismiss" properties quickly and efficiently with a range of search filters including: Property Type, Price Range and Number of Bedrooms and if you opt to "log in" the app can be accessed from multiple devices.
At the touch of a button you can choose the location you wish to search in and rather neatly, you can also pick the "near me" option which allows you to find a property within streets of where you are standing. You can also use it to arrange viewings or contact the agent and send and share properties via social media, email and SMS.
Moovrs is built by Codegent, the same company that built TV's Sarah Beeny's online estate agency Tepilo and have concentrated their design on what they call "The 3 P's of Property "- Place, Price and Pictures, believing that "to sit in front of a computer screen for hours, tediously amending filters is not always enjoyable or that necessary. With Moovrs we have injected fun and simplicity into finding a new home by focussing on the things people care about most".
I'm not sure if the claim "Moovrs takes the stress out of house hunting!" will prove true for the many jaded seekers of forever homes but it's definitely worth a go.
As they say in the strap line "Will you find your perfect match?" Possibly but if not, at least you can say you had "fun" trying!