David Cameron's Tory Government Introduces A New Housing Bill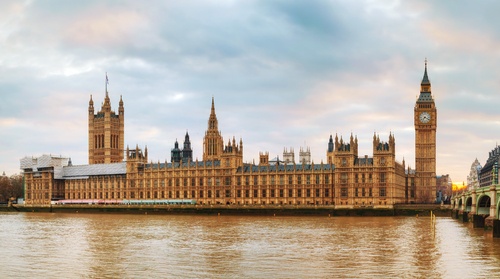 A new Housing Bill, as announced by the Queen in her speech at the State Opening of Parliament this week, will give 1.3 million Housing Association Tenants the "right to buy" their homes while requiring councils to sell off high-value properties and invest the proceeds into building affordable ones.
The "right to buy" scheme, widely associated with Margaret Thatcher's era as Prime Minister, was introduced in 1980 to give tenants an opportunity to buy their council home at a discount. The scheme was reinvigorated in 2012 and about 800,000 housing association tenants already have a right to acquire their homes with smaller discounts. But the discounts have now been significantly increased from as little as £16,000 in some areas to a maximum of up to £77,900 across England and £103,900 in London - the same discounts offered to council tenants.
The money from the sales is to be used to invest in more affordable housing, which along with government funding, will allow 'one-for-one' replacements in the same area. The aim being to help reduce social housing waiting lists as, rather than there being just one rented property, there will be two - one with a new homeowner and a new one available for those in need on the waiting list.
This Housing Bill will also require councils to sell their most expensive housing when it falls vacant, with these receipts also being used to provide new affordable homes in the same area. Remaining funds will also be invested in a new brownfield regeneration fund to increase the supply of new housing.
Other property schemes announced include extending help to buy until 2020, which helps people buy a new home with a fraction of the deposit that would normally be required. Meanwhile, from this autumn, new help to buy Isa accounts will be made available through banks and building societies. This will help people to save for a deposit for their first home. It is estimated that around 285,000 first-time buyers will use the scheme a year.
Greg Clark, the Communities Secretary, said "this bill will give more than a million people a helping hand on to the housing ladder". The Housing Minister, Brandon Lewis, said: "Anyone who works hard and wants to get on the property ladder should have the opportunity to do so, which is why this Queen's speech included measures to enable a million more people to have the chance to do just that".
Recent housebuilding figures showed that number of new homes being started in England by builders is at its highest levels since 2007. But while work started on 140,500 homes in the year to March, some point out this is still only around half the level of housebuilding needed to keep up with demand and critics of the bill say this is not a genuine solution to the wider housing crisis.
Shelter chief executive Campbell Robb said the government had got its tactics and its sums wrong."After voters and politicians alike made housing a top priority coming into this election, it's disappointing that a plan with the potential to actually solve the housing shortage has failed to materialise," Robb said. "You simply can't solve an affordability crisis by selling off what little affordable housing we have left, yet that's exactly what we've seen in this speech."
The National Housing Federation said the policy could cost up to £5.8bn a year because compensation would have to be paid to housing associations for forcing them to offer stock to tenants at below-market rates. NHF assistant director Henry Gregg said extending RTB to housing association homes was "not a genuine solution to our housing crisis" and will damage the sector. "We are pleased to see a housing bill front and centre of the Queen's Speech and to see the government committed to getting more homes built. Plans to identify and free up brownfield land, the right to build and Starter Homes are all moves in the right direction and will contribute to resolving the huge housing shortage we have. But we need to ensure these new homes are built where people need them and available at a price people can afford. However, the proposed "right to buy" extension and welfare reforms put these plans at risk."
Gavin Smart, deputy chief executive of the Chartered Institute of Housing, said extending RTB was "not going to tackle the housing crisis - in fact it could make things worse for people on lower incomes who are already struggling to access a decent home at a price they can afford".
Read the Queens Speech in full.