New 2012 EPC Regulations And Rules. Property Particulars, PCHomes Has It Covered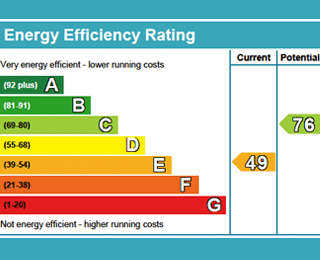 We have received many calls and emails from our customers worrying about how they can be legally compliant for the new 2012 EPC Rules, Regulations and Requirements.
What Are These Rules?
Before 6th April you would include an EPC asset chart on a set of particulars. These rules have now changed so that from 6th April 2012 you have to:
Obtain an EPC for all commercial sales and lettings properties.
Obtain an EPC for all residential sales and lettings properties.
Include the 1st page of the EPC for all sales and lettings properties in printed and electronic property particulars.
Have ordered an EPC prior to marketing and have it within 7 days of marketing (there is a 21 day exceptional circumstances clause).
Changes To Particulars.
This legislation change requires a significant change to the way you are required to present EPC information. Property particulars will be required to include a copy of the entire front page of the EPC document and not just the EPC graph as has currently been the case. Note that this requirement extends to particulars that are printed, emailed, snail-mailed and handed out, as well as those distributed electronically by email or via websites. This can also cause you headaches with when and how you produce your particulars for marketing.
Remember, the front page of the EPC document must be attached/included in any set of particulars.
What Are A Set Of Particulars?
Written particulars include electronic communications (emails) and are defined in the new regulations as containing at least two of the following:
a photograph of the building or any room in the building,
a floor plan of the building,
the size of the rooms in the building,
the measured area of the building, or,
in relation to a building being rented out, the proposed rent.
On the face of it, any advertisement of your properties, whether via print or electronic, and this includes window displays, which includes at least 2 of the above conditions, should therefore include the first page of the EPC. However, we believe that the operational condition is that a relevant person must be provided with the details in response to a specific request. A Window Card would not therefore constitute a response to a specific request. However we also believe that the safest option is to ensure that there is at minimum a link on each website Property Card. There is a field on the Property Screen, usually on "Tab 9 Links for you to paste in the EPC link."
Almost all lettings adverts will include a property photo and the rental price, and thus it will be hard to avoid this.
But I Only Do Lettings, I Do Not Produce Property Particulars!
You may think that just because you do lettings and do not produce a full glossy set of property particulars with room dimensions then these rules will not apply to you. If you read the above criteria for what constitutes a set of "property particulars" then you will see that just by having a photo and a rental price this makes pretty much all properties for rent fall into this category. Of course you can market these properties without photos but then that will adversely affect your marketing.
Really, All Outputs?
Reading the numerous blogs and internet comments there really is a lot of confusion out in the market. In particular in the lettings market where EPC documents have not been as important. Everybody is trying to get the right advice. Do not believe all you read on the internet and if you are worried about the legal implications you need to speak to your solicitor. Even the industry trade bodies can give confusing advise. I saw this recent comment on a blog that come from one of the official bodies. This statement appears at odds with the law.
"The Regulation changes, which come into effect on 6th April, refer specifically to sales or lettings particulars provided to potential purchasers/tenants expressing interest in a property. They do not apply to marketing material such as window displays, general property lists or press advertising. I trust this clarifies the situation."
Do Window Cards Or Lists For Property Meet The Definition Of Written Particulars?
The general "opinion" is No. The requirement to "attach" a copy of the front page of the EPC to written particulars is where the Estate or Letting agent provides written particulars to a person or specific individual, who may be interested in buying or renting the property. This implies that a copy of the front page of the EPC does not need to be attached to a window card, property listing or newspaper advertising material.
Ok, Put It On The Particulars But Make It As Small As Possible!
The first page of the EPC by default is a full sized A4 page. When including this in particulars you may ask to have it made as small as possible. Please be aware that this has to be carefully considered so that you do not break other regulations, due to the text being too small or unreadable, like the Equality Act 2010.
Address Redaction?
You will see from the EPC that the full property address is included on the first page of the EPC. The address must be included on all EPC documents and may not be removed in almost all circumstances. The only time the address may be removed is for commercial properties and this can only be done via the "enhanced landmark redaction service" to remove the address. Despite the controversy surrounding the topic of address redaction from the Marketing EPCs, the removal of the address will not be allowed in most cases. This has been done in this way as compliance and quality control would be very difficult if the address were to be removed.
Your Website.
It could be that your site is currently not compliant with the new regulations by the letter of the law. There is still much debate on whether displaying a property on a website constitutes a set of particulars according to the regulations as set out.
Websites produced by Estates IT will usually have a link to printed details. If a PDF particulars document is produced and uploaded then a link to this PDF replaces the standard link to the Print-Friendly version of the web page. If this PDF contains the first page of the EPC then your website is providing a legally compliant document. Your website can also potentially show additional links like the one discussed below (from any copy of PCHomes). Your website may require changes or additional work to be compliant with the new regulations.
Rightmove Exempt Their Website By Calling It An Advert.
Rightmove recently emailed all of its clients and made the claim as quoted below:
"Rightmove is a property advertising website and the information displayed on Rightmove by all our member agents takes the form of property adverts and not property particulars. This is clearly stated at the bottom of every page on Rightmove that displays the details which have been provided to us by the agent about a specific property and will continue to do so.

It is our view that the new regulations do not place any additional obligations on Rightmove, although you may wish to consider separately how the new regulations might affect your own company website. We do, however, understand that some of our member agents may wish to display the EPC as part of the property advert on Rightmove. Rightmove does provide the functionality for you to do this if you so wish."
If Rightmove can make this claim, what stops other estate agent websites and portals making the same claim? Some clarity in the law here we think is required. The key here is that Rightmove state "It is our view", so do not use this as your basis for your legal requirements and obligations.
PCHomes Property Particulars and EPC Options - All Versions.
In all versions PCHomes you can upload PDF particulars online. These are hosted by Estates IT and can be referenced from websites and portals. Links to these particulars are sent to portals such as Rightmove. They can also appear on your website as a link or PDF page. These can be produced for sales or lettings property. With this in mind, once the EPC first page is combined with the Particulars PDF this can then be distributed, enabling you to be compliant with the current 2012 law.
The question arises "How do I get my EPC first page on my particulars or available separately?"
PCHomes v5 has the tools for extraction.
PCHomes EPC Options - All Versions.
1. Use Link EPC on "Links" tab of property screen to link to PDF or graphic.
Store a full URL to an already stored or web based file/document/PDF. You will need to get the URL from your EPC provider for each property or an alternative location that you are hosting this file at. Note that even though you can store this link within PCHomes and the data is available to websites and portals it may not be getting used. If you wish this link to be activated on your website please contact our customer services department.
We would like to point out here that this is as far as some of the other software providers go with their advice and support, including some of the better known packages. Our support and features do not stop here.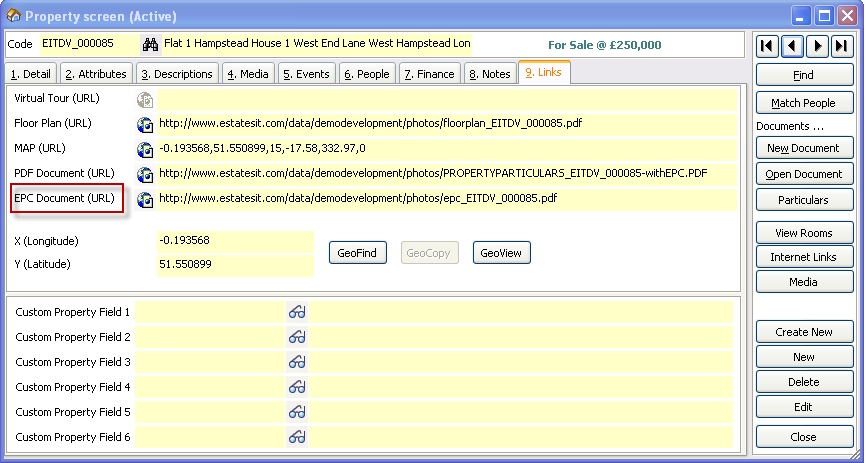 2. Store as Floor plan 3.
You can select the EPC first page image as a Floor plan file (JPG), if you insert this into the Floor Plan 3 field and this can be referenced by the system in the production of particulars, windows cards and other documents. It is also uploaded to the website and portals and so will appear anywhere where your property is being marketed.

Two main disadvantages of using the Floor Plan 3 field technique is, firstly, it is not really a floor plan. The second more significant drawback is that when moving to PCHomes v5, the floor plan 3 field may no longer be in position 3. This is due to PCHomes v5 support for unlimited photos and floor plans.
3. Store as a Photo.
You could take the option to store the EPC graphic as another photo in PCHomes. As the photos are passed onto all the portals and up to the websites this will work. This is not a recommended solution as it will have limitations. If the EPC is put into a fixed photo position this may work in v4 but not in v5. It will probably be illegible too.
PCHomes EPC Options - Version 5.
Our new PCHomes v5 is released shortly, currently in beta testing. This version of the software contains many new enhancements in many areas of the system. Once of these is in the area of EPCs and particulars production.
1. Use Link EPC on "Links" tab of property screen to link to PDF or graphic.
This is the same option as for v4 of PCHomes. However, there are additional features in v5 that help with some of the problems with this method. You may have an EPC provider that does not allow the EPC to be stored online on their servers and/or to be accessed publicly. If this is the case you will need to host the document yourself or via your website.

PCHomes v5 allows just the file name of the PDF to be input into this field. If the file is found locally and is not a URL then the file is automatically uploaded to the Estates IT servers and can then be referenced from websites and portals as a URL.
2. Store as "EPCPAGE1_LEAD_999999.jpg" in Open Documents.
Using a standard naming convention and storage location for the EPC first page graphics, this graphic can then be automatically uploaded to the website and included in particulars. Format as above for property code LEAD_999999, where the file is stored in the LEAD_999999 open documents folder.
3. Store as "EPC_LEAD_999999.pdf" in Open Documents.
Using a standard naming convention and storage location EPC PDF documents can ensure these documents are uploaded to these website and portals. Format as above for property code LEAD_999999, where the file is stored in the LEAD_999999 open documents folder.
But It Is A Pain To Get The First Page Extracted!
With options 2 and 3 for PCHomes v4 above you will need to get the EPC first page provided as JPG (graphic) file format. Here are your options for that:
Your EPC provider may be able to provide this graphic for you. If you cannot get this provided ...
You can use your own method of extraction to get the first page out.
You could print the EPC PDF out and scan the first page as a graphic.
You can get upgraded to v5 of PCHomes which has tools to extract the first page for you
PCHomes V5 Goes Further.
PCHomes v5 includes extra tools to allow you to extract the first page of an EPC PDF document and create it as an image file. The well established estate agent software has PDF tools that allow extraction of the image with the required naming and location. It can then allow for this first page to be merged into the property particulars or any PDF document. The extracted files and the original PDF file, if included in the correct location, will also be uploaded to the internet documents library.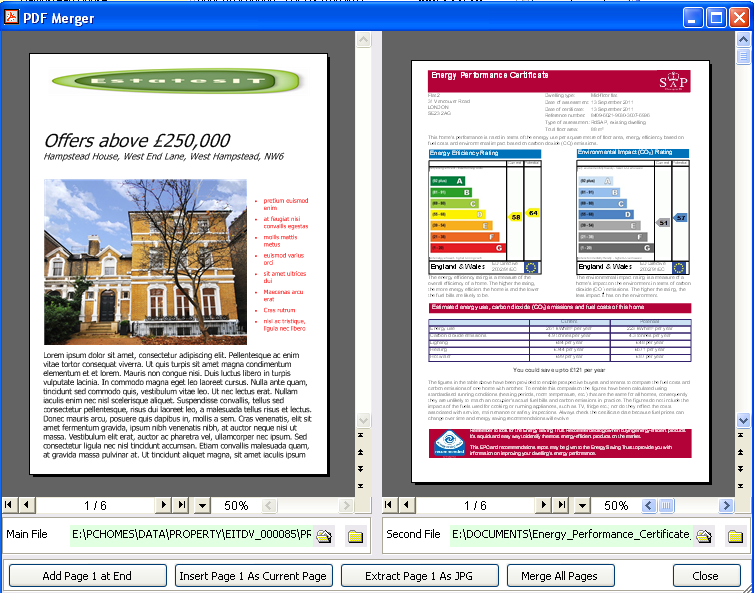 Legal Notice:
This article does not constitute legal advice, and we make no claim to be legal experts. If you are unsure about the implications of these new rule changes for your advertising, or need further legal clarification, we recommend you seek professional advice from the Department for Communities and Local Government, your professional body or your local Trading Standards Officer.
References:
Note Sure What You Have To Do Now?
To discuss your issues in more detail contact Customer Services on 020 8859 1700 or alternatively contact us via email