Estates IT to hold a Macmillan Coffee Morning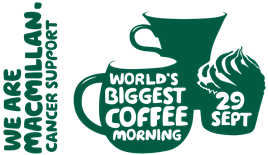 Estates IT are extremely proud to be supporting Macmillan Cancer Support this year. September 29th will see thousands of coffee mornings taking place all over the country, including our own at Estates IT's offices in Eltham, South East London.
Anyone in the area who would like to join us on our middle floor for coffee and cake at around 15.30 would be very welcome. Big thanks to our friends at Ayres Bakery, Eltham for donating extra cakes!
Macmillan do a fantastic job providing medical, emotional, practical and financial support to those suffering with cancer, as well as campaigning for better cancer care. There are 2.5 million people in the UK living with cancer and by 2030, it will be 4 million people. One in three of us will get cancer and it will be one of the toughest things we'll ever have to face. Macmillans goal is to make sure no one faces cancer alone but to continue to do this amazing work, they need our financial support.
Estates IT have set up a fundraising page with Just Giving and any donations would be most gratefully received and 100% of all monies raised go directly to the charity.
You could of course host your own coffee morning to support Macmillan? There is a free kit available which contains all you will need to host a fab coffee morning (apart from the coffee, cakes and friends!).
Thank you.