Spareroom Caught Out Advertising Rent Free Room To 'Attractive Women'!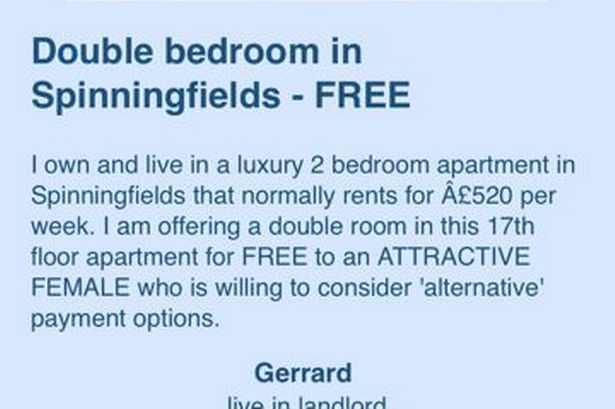 Just when you think you've heard it all, something comes along and side swipes you into thinking you've entered another dimension! In this case, a place where a male "landlord" is allowed to advertise openly on a prominent lettings website, looking for a female "tenant" who might like to find "alternative" ways to pay for her accommodation! Oooh, I wonder what that might mean?!
To fill you in on the details: Alleged landlord 'Gerrard' from the Spinningfields suburb of inner Manchester, placed an advert on the Spareroom.com website titled "Double Room in Spinningfields - FREE". It went on to say, "I own and live in a luxury 2 Bedroomed apartment in Spinningfields, that normally rents for £520 per week. I am offering a double room in this 17th floor apartment for FREE to an ATTRACTIVE FEMALE who is willing to consider 'alternative' payment options." A screen shot of said advert is shown on the right.
Spareroom is the UK's largest flatsharing website and is used by landlords to advertise available rooms in their properties. The site - which often issues press releases on the state of the housing market and calling for lodging reforms- really should have known better and stopped the ad before publishing. But no, it slipped right past them and appeared on their website over last weekend.
The ad was taken down, after it was spotted by an eagle-eyed customer service advisor at the website who complained but even so, there it was for all to see. Not good enough Spareroom, surely you have a responsibility to ensure inappropriate advertising is dealt with swiftly and preferably before it goes live.
Speaking after it was removed, a spokesperson for Spareroom said: "In principle we do allow people to offer discounted rates for rooms if their new tenant can also offer a specific service. In the past we have had people that have been after a flatmate that will clean, or perhaps help to look after a child. In one case we had a music technician who offered a discount as long as the new roommate could help them catalogue their music collection. But in this particular case the offer of a discount did not seem appropriate, and so the listing was removed. In all honesty I wouldn't think that there really was a room available, but that it might have been someone having some fun."
Fun! Really? Maybe I'm losing my sense of humour.