Glastonbury: The Largest Music Festival In The World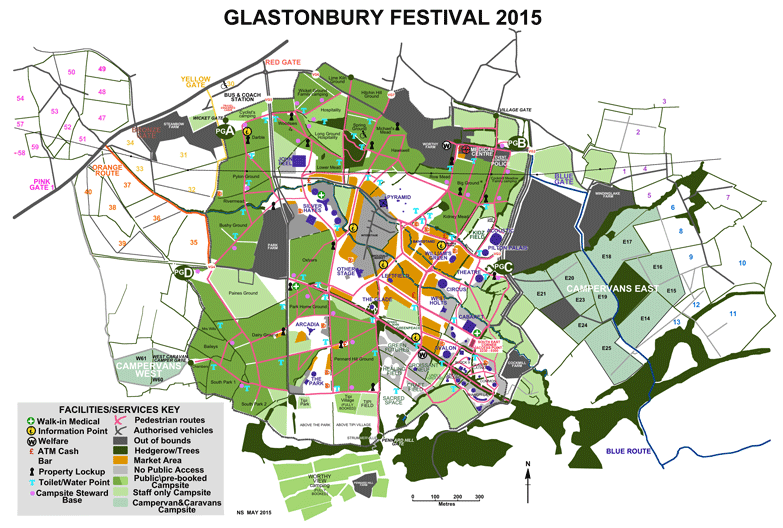 Personally, I've never seen the attraction of standing in a field listening to a band that I am way too short to actually see (unless via the big screens) but the simple truth is, thousands of people do.
Music festivals are becoming more and more popular and the age range of those attending is the widest it's ever been. From babes in arms to grannies & grandads they pile in to the venue and spend days soaking up the atmosphere and the mud. Of course, the 60 somethings of today are the Hippies of yesteryear so it's a great way to relive the days of their youth and who can blame them? Back then responsibility was a dirty word, as were their clothes and credit card debt and mortgages you couldn't afford were non-existent. You were happiest listening to your record player with your mates, drinking mateus rose and burning joss sticks in your bedroom! I remember because my brother is now in his sixties and many were the times I'd loiter outside his room, in our housing association flat in Brixton, wondering what that strange smell was!
So what joy to return once more to those glorious days of not washing for a few days and not caring that you haven't, sleeping under the stars, partaking of various substances and having a drink or two, in the knowledge that for 1, 2 or 3 days, you are free from the shackles of stuffy society! But I digress:
Glastonbury remains the largest greenfield music and performing arts festival in the world and kicked off a couple of days ago with the main attractions beginning this evening and lasting through to the early hours of Sunday and what an amazing line up they have!
I had no idea that there were over 100 stages and set in over 900 acres of beautiful Somerset countryside. The site is ENORMOUS - more than a mile and a half across, with a perimeter of about eight and a half miles and they promise something for everyone. Even all you Estate & Lettings Agents out there!
Remarkably, the Dalai Lama is paying his first visit on Sunday and he's almost 80! Chonpel Tsering, a spokesperson for his holiness says "This upcoming visit by His Holiness the Dalai Lama will be particularly notable as it takes place just a week before His Holiness turns 80 on 6 July 2015. The visit will offer all those attending the events, and beyond, an opportunity to hear the message of compassion, hope, dialogue and tolerance of this widely respected spiritual and moral authority." How cool is that! And who'd have thought that he has his own website.
Unfortunately, tickets for Glasto are sold out (usually just hours after they go on sale) and if you want to go next year you must register on the website. Even this does not guarantee you a ticket but you will need your registration number to purchase tickets when they do go on sale.
I have friends in their 20's and contemporaries in their 60's who are all going and sometimes I wish I were too but then I remember, I simply can't do camping and portaloos and the thought of being in the middle of a seething crowd, no matter how friendly they are just fills me with horror! But I will be taking part in my own small way, by staying tuned to the coverage on the BBC, rocking away in my lounge to the Who on Sunday night and climbing into my own bed when it's over.
Whatever you're doing this weekend, I wish you a good one filled with peace & love.