Estates IT Enter ESTAS Supplier Of The Year Award 2015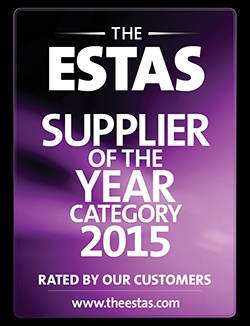 Estates IT enters The ESTAS Supplier of the Year Award Category 2015
Estates IT has signed up to take part in the ESTAS supplier of the year category which is the biggest award of its kind in the residential property industry. The award is unique as it is ratings from estate and letting agents that determines which suppliers are shortlisted and ultimately who wins the award. Last year over 3,000 agents completed the online survey.
"There are a huge number of suppliers to the industry and our aim is to highlight those that provide the best service and the most value to the agents they work with," says Simon Brown, who runs The ESTAS. "Voting for this category will be based on the same formula as that used for rating agents, namely feedback from customers, estate & letting agents will be able to rate the level of service provided by a supplier by completing an online questionnaire."
"We want agents who have used suppliers' products and services in 2014 to rate their experience. The results will not only help to highlight the best performing suppliers, but will also provide valuable feedback to those companies so they can develop their services accordingly."
Nigel Stanley repeated that "We are committed to offering all our agent clients the highest levels of customer service and this is a great way to prove it. We also value very highly feedback from our customers and taking part in this award will provide us with ongoing data enabling us to improve our products and services throughout the year."
If you are one of our customers (that has been working with us for a minimum of 3 months in 2014) please can you take a few minutes to request an entry from from our customer services team 020 8859 1700 (Option 2) or cs@estatesit.com or Vote now