Cryptolocker Ransomware Virus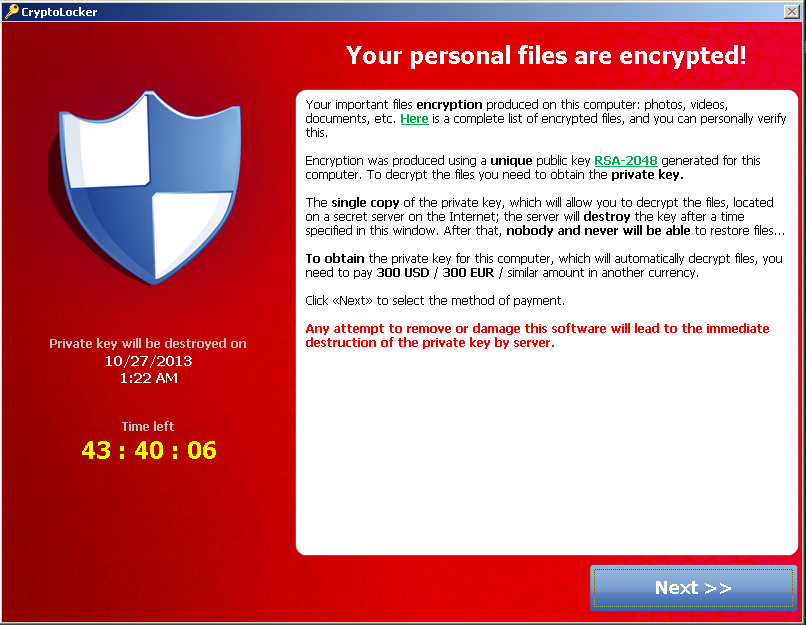 Estates IT is currently receiving support calls from clients who have been infected by the CryptoLocker Ransomware Virus.
This virus is transmitted in several ways; websites that have been hacked can infect your machine through vulnerabilities on your computer, or via an email purporting to come from a reliable source and hidden within a .zip file attachment. The threat may also be downloaded manually by tricking the user into thinking they are installing a useful piece of software, for instance a bogus update for Adobe Flash Player.
The file is an executable however the extension is hidden so it does not identify itself as an .exe file. Once run it then takes up residency on your computer's hard drive. From there it replicates itself across all networks and directories, and encrypts files and folders not only on your own PC but any PC or device connected to the network. This includes all documents, photos, audio files, etc.
When the files are encrypted, it displays a message on your computer screen demanding a ransom within a certain time limit in order to retrieve a code to decrypt your files otherwise they will be destroyed.
DO NOT PAY THE RANSOM UNDER ANY CIRCUMSTANCES!
We cannot stress that enough. There is no easy way to say this, but there is no guarantee if you pay that they will send you the code for you to decrypt and retrieve your data.
Which brings us onto the subject of backups.
Your data is the most important part of your business second only to your staff. Without your data, all your client's information, rents, arrears, property information, applicants - all your financial accounts, your emails and documents - everything that is on your computer could be lost unless it is backed up, preferably to an offsite location. It is imperative that you have a back-up.
These are the most recently reported cases.
Client 1 - no backup run since March 2015. CryptoLocker caused 48 hours loss of trading and total loss of 14 months' worth of data, files, emails etc.
Client 2 - 10 months with no backup. 2 networked branches. Catastrophic loss of all branch electronic data for the last 10 months, 2 weeks loss of trading.
Client 3 - backed up their data regularly. Server cleaned and restored to recent backup. Minimal loss of data, less than 30 minutes downtime.
On PCHomes Desktop Estate Agent Software, for total peace of mind, you should ensure that you backup your database, documents, photos and other related at regular intervals. This can be done via built in backup routines in PCHomes or arranged by your IT support company for your server and workstations.
On PCHomes Plus Cloud Estate Agent Software your data held in the cloud is backed up automatically at regular intervals to minimise any chance of data loss due to viruses and malicious activity.
Estates IT can advise on a variety of backup solutions for your business. Please contact us for more information on:020 8859 1700 (Option 1) or enquiries@estatesit.com