Why Estate Agents Should Embrace Social Media!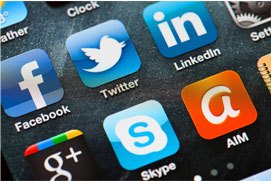 There are still thousands of agents out there who have not taken on board Social Media. There seems to be many reasons for this such as "it's too time consuming" or "I don't understand it." As the majority of the population visit social media sites like Facebook, Twitter and Pinterest etc.... This is the perfect opportunity to promote your business online and let the public know who you are and what you can offer.
First of all it is really important to get the basics right. Try to make sure the information is relevant to your target audience and don't bore them to tears with the same things day in day out. You want the public to engage and share your pages and tweets. Its simple the more they are shared the more your brand awareness increases.
Out on my travels (visiting Estate Agents) I often get told, "well my competition can see what we are doing. Is that a bad thing?" At the end of the day you can also see them and you are fully aware of what they are also offering. Try to discuss your business in a fun way, get the public engaged. Maybe even ask them for feedback on certain topics or services. Thus Helping to build the trust and loyalty for your brand instead of the competition. Show people that you are an expert in your field.
"Its simple the more they are shared the more your brand awareness increases"
One idea is to suggest that all members of staff tweet at least once a day and remember it's a free way to market your business. You will be surprised on how quickly your social media interaction will grow. Remember the more that share the more exposure your brand will receive, thus helping to drive more traffic to your website.
Would you like to read more about Social Media for Estate Agents? Why not check out one of our articles written last year about Twitter "To Tweet Or Not To Tweet?"
If you have any questions or would like advice on social media please speak to one of our team on 020 8859 1700 (Option 1) or enquiries@estatesit.com